Hawaii is a group of beautiful islands, and its many miles of coasts and beaches are great places for rockhounds and fossil hunters. Although there are many more gem sites than fossil sites in Hawaii, there are many places where fossils have been discovered and also places where you can find some of your own.
The best places to look for rocks or fossils in Hawaii are on its many beaches. There, you can find black coral, peridot, quartz crystals and shark teeth.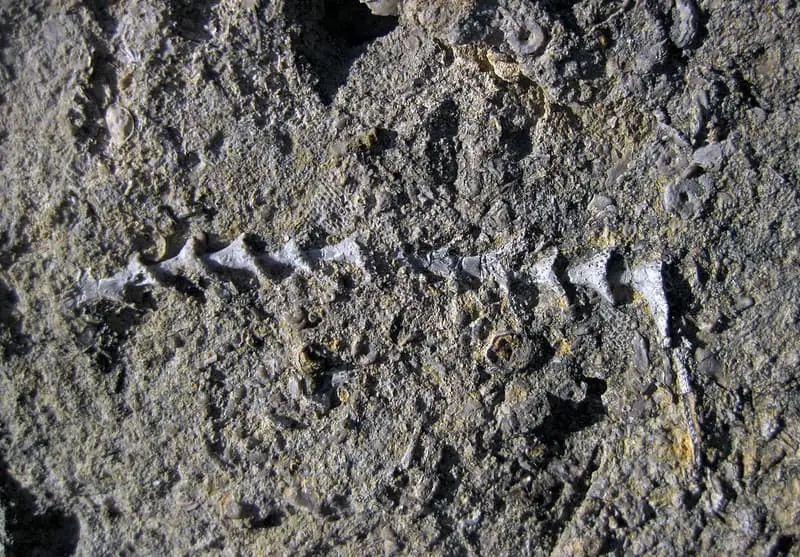 Where to Find Fossils in Hawaii?
Fossil hunters in Hawaii have found mostly "bird skeletons, snails, and the remains of coral and mollusks.
Here are some places where fossils can be found:
Makauwahi Cave
Makauwahi is a great place to hunt fossils in the state of Hawaii. Its name means "smoke eye". It is located on Kauai's southern shore.
The cave has a very narrow opening. You have to crawl through it. Once inside the cave, you will feel cramped, but you'll be able to see "a natural amphitheater." . The entrance to the cave was found in 1992 by archeologists who were looking for a native burial ground.
Scientists believe the cave took 400,000 years to form. The cave has samples of prehistoric plants and some bones.
The cave's walls are 33 inches thick, and their unique geological composition is perfect for preserving fossils.
The fossils in the cave are older than humans. These bones are primarily from prehistoric birds. Half of the species found there are now extinct. There are also tools, shells, and other artifacts.
Free tours are given through the cave five days a week. The cave's official address is:
1571-4 Poipu Rd, Koloa, HI 96756. Their phone number is (808) 631-3409.
Kazumura Cave
Kazumura is near Hawaii Volcanoes National Park. This cave is home to the world's longest and deepest lava tube. The cave was first used as a fallout shelter in 1966. In the 1970s,
an entomologist named Francis Howarth reported finding troglobites (Species of ancient bugs like beetles and spiders.)
The cave's lava tube is over 500 years old. It is 40 feet long and 3600 feet deep.
Inside you will see millions of lava stalagmites and a lava plunge pool. The lava tube provides 101 entrances to the cave. Most of these entrances are on private property.
Kazumura is on the eastern shore of the Kilauea Volcano, which has been erupting since 1983.
Daily tours are offered through the cave.
The cave is located east from the Hawaiʻi Volcanoes National Park on the Big Island. The park address is Hawaii Volcanoes National Park, HI 96718. You can call the park as they can give you more reference on how you can visit the caves, their phone is (808) 985-6000.
Oahu Island
"Agates, shark teeth, sea glass, and seashells" have been found on beaches on Oahu island. There are also numerous dive sites for fossil hunters looking for marine life fossils. You can see these areas by contacting the museum guides on the island.
Maui Beaches
Fossil hunters have found "pearls, agates, shark teeth, sea glass, or seashells" on Maui's beaches.
Some of the location you visit are :
Ho'okipa Beach Park located at 179 Hana Hwy, Paia, HI 96779
Keawakapu Beach located at Keawakapu Beach, South Kihei Road &, Kilohana Dr, Kihei, HI 96753
Kahekili Beach Park located at Kahekili Beach Park, 65 Kai Ala Dr, Lahaina, HI 96761
Makena Beach located at Makena Beach, 6600 Makena Alanui, Kihei, HI 96753
You may like: Where to Find Fossils in Georgia?
Fossils Found in Hawaii
Most of the fossils in Hawaii are birds of the Moa Nalo group. The Moa Nalo includes three prehistoric birds.
All of these are flightless birds that weighed about 15 pounds. Moa Nalo birds came to Hawaii three million years ago, having evolved from a type of prehistoric duck. They are now extinct due to being over hunted.
Fossil hunters in Hawaii have also found "dozens of other prehistoric birds.", including the Nene-Nui (an ancestor of the Nene bird, which is still alive today.)
Another type of fossil found in Hawaii is a type of prehistoric tree snail. These snails are now extinct because the only thing they ate was a rare fungus that has since become extinct.
Fossil shark teeth have been found on the Marine base in Kaneohe Bay on Oahu. Their typical size is 1/8 inch to 3/4 inches.
Shark teeth have also been found on Kauai, on Kalapaki Beach, Poipu Beach, and Anahola Beach.
The best places to look for shark teeth are on the coastlines of beaches, when the tides have come in. Look near piles of shells and you may see shark teeth.
Dinosaur Fossils in Hawaii: Were There Dinosaurs in Hawaii?
According to Paleobiology Database, Hawaii has 95 recorded dinosaur fossils. The genus with the most recorded fossils is Apteribis ( a flightless ancestor of the ibis).
So yes there were dinosaurs in hawaii.
Hawaii Fossils Laws
You cannot legally take rocks or sand from national parks (including fossilized rocks). In addition, while not a law: native Hawaiians believe taking rocks from their lands will offend the volcano god, Pele.
Hawaiians believe in "Pele's curse," which says if you take rocks or sand from Hawaii, you will have bad luck.
But, many people must disregard this law and then regret it because Volcano Park gets thousands of packages of rocks back each year; from those "trying to get rid of their bad luck."
Like in any other state, every fossil hunter's responsibility is to get permission from the private property owner to look for or collect fossils from any Hawaii site.
Can You Take Seashells from Hawaii?
Taking small amounts of seashells from beaches in Hawaii is legal, as long as you don't take them to be sold. However, taking live specimens is against the law.
Can You Take Dried Coral from Hawaii?
You can take black corals that are less than 3/4 inches, but taking gold and pink coral is against the law.
Conclusion: Where to Find Fossils in Hawaii?
Though there were not many dinosaurs on the Hawaiian islands, fossil hunters have found the remains of birds, coral, mollusks, and snails. To explore and see some of these fossils, try the Makauwahi or Kazumura caves or the beaches in Oahu and Maui, where you might be lucky enough to find your own unique piece of Hawaiian history.
Today I'm going to send you more work, when you look into other sites,don't copy not even a sentence. Some plagiarism came up in my copyscape.